Passion is the sail and Dreams are the rudder!
Can you really have it all? Can you make a living and do what you love?
When you look at happiness or flourishing or abundance, even from a secular research side, it's pretty clear the way you really make a living is first figure out a way to be happy at what you do, to be passionate about what you do.
Can you really have it all? That is a key question. Most of us think, "I can make a living or I can do what I love, but I don't see how I can make a living and do what I love."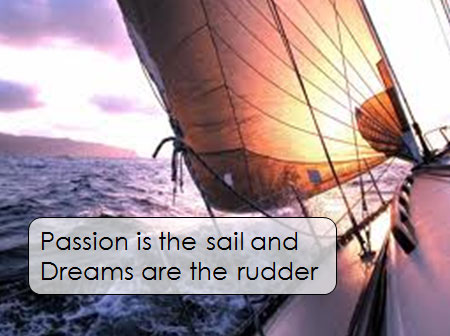 I understand for some of us that is true, but it may only be true because you haven't got the keys to recovering your passion in your work and discovering the work that matches your passion.
What is critical here is to really look at the "love" side of this equation. It's vital to examine what it really means to love what you do.
Here's how most of us go about this. We get good at something or we have a natural talent for something or someone says, "Hey, you'd be good at that."
We put our hand to the plow and we start doing something to make a living and pretty soon, we're doing okay, but then somewhere along the way, we wake up to the fact that we're stuck on a treadmill and we're doing things that maybe once sounded good at the time, but they're no longer really giving us life and we're not passionate about and we're just going through the motions. That's a dangerous place to be.
That's the way it was for me. For 20 years I practiced medicine (anesthesiology). And while I was very good at it and got paid well, I looked forward to the day I eventually could retire.
Then in 2007 I took a sabbatical year and stumbled into leadership coach training. Soon I realized I got a lot more excited about empowering people and their dreams than I did putting them to sleep or numbing them up for an operation or procedure.
On June 30 I had the privilege of hosting Dr. Joseph Umidi on a live broadcast titled "Making a Living (and a Life) Doing What you Love". For me this was coming full circle because Dr. Umidi has been one of the top influencers in my life. Because Dr. Umidi chose to pursue his dream, my passion and dream were unlocked. And now the dreams of thousands of others are being unlocked too. That's exciting.
During his message, Dr. Umidi discussed:
3 Keys to recovering your passion in your work
3 Keys to discovering the work that matches your passion
3 Keys to helping those you care about to care about their work and passion
Click the play button below to watch the replay. Enjoy!

The two most important factors for great achievement are a big dream and belief.
By the way, Dr. Umidi is hosting the Dreamfire Experience in the Virginia Beach area on July 8-9, 2016. I plan to be at the live event. You are invited to join us. You can participate either by coming in person or through live streaming. CLICK HERE to register or learn more.
Blessings to follow your passion and purpose!

More blessings!
1) The Lion King – Circle Of Life
2) Colors of the Wind (song/video)