Sabbath Inspiration: A shift – The 2015 Christmas card from my son
"The greatest Christmas gift ever given wasn't placed under the tree. He was placed on the Tree and His name is Jesus."
""Behold, the virgin shall be with child, and bear a Son, and they shall call His name Immanuel," which is translated, "God with us." (Matthew 1:23)
Jesus is the reason for the season!!!
What can you do to turn the busyness of Christmas into the miracle of Christmas?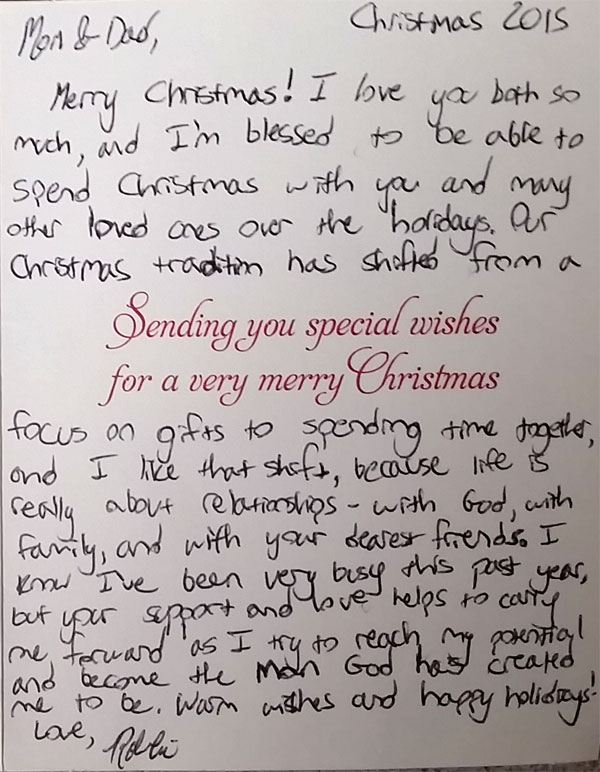 Earlier this week, I stumbled across the 2015 Christmas card from our son Robbie, who was 28 years old at the time.
I took a photo of that and attached it in an email sent to a few of my closest friends. Because their responses were so encouraging, I felt inspired to share Robbie's message with you.
In his card, Robbie wrote,
"Mom and Dad, Merry Christmas! I love you both so much, and I'm blessed to spend Christmas with you and many other loved ones over the holidays. Our Christmas tradition has shifted from a focus on gifts to spending time together and I like that shift because life is really about relationships – with God, with family, and with your dearest friends. I know I've been very busy this past year, but your support and love helps to carry me forward as I try to reach my potential and become the man God has created me to be. Warm wishes and happy holidays! Love, Robbie"
I sense Robbie's message will speak to some, if not all of you.
Here are responses I received earlier from my close friends:
This is sooooooo beautiful, Joseph! Thank you for sharing this precious testimony of God at work in your family. May we all be most attentive to honoring Emmanuel and His family this Christmas in His love language: spending time.
Building relationship, spending time together, enjoying one another's company, sharing from the heart… reminds me of something 🙂
I took some more time to reflect on this. And reading through it a few more times caused me to remember my grandparents who were very poor. I never received one gift from them… even when I was at their home for Christmas. But the love I felt from them made me want to be with them all the time! Love is the most treasured gift of all. God shared His love with us with the gift of Christ's birth.
I encourage you to share your thoughts in the Comment box below.
Blessings for the miracle of Christmas to fill your heart with warmth and love!
Joseph
Joseph Peck, M.D.
The Time Doctor and The Connector
Empowering Dreams
Author, I Was Busy Now I'm Not
P.S. No King but Jesus!
More blessings
1) THE CHRISTMAS STORY
The virgin birth is one of the fundamental tenets of Christianity. Because of that, Jesus was both God and man and could be the perfect sacrifice to redeem us from our sins forever. Jesus is the gift that keeps on giving – the gift of eternal life.
Enjoy this short video with me reading the Christmas story according to the Gospel of Luke along with a short commentary.
The Christmas Story according to the Gospel of Luke
Related scriptures

Isaiah 7:14 "Therefore the Lord Himself will give you a sign: Behold, the virgin shall conceive and bear a Son, and shall call His name Immanuel.

Matthew 1:23 "Behold, the virgin shall be with child, and bear a Son, and they shall call His name Immanuel," which is translated, "God with us."

Matthew 1:18-25 – Now the birth of Jesus Christ was as follows: After His mother Mary was betrothed to Joseph, before they came together, she was found with child of the Holy Spirit. 19 Then Joseph her husband, being a just man, and not wanting to make her a public example, was minded to put her away secretly. 20 But while he thought about these things, behold, an angel of the Lord appeared to him in a dream, saying, "Joseph, son of David, do not be afraid to take to you Mary your wife, for that which is conceived in her is of the Holy Spirit. 21 "And she will bring forth a Son, and you shall call His name JESUS, for He will save His people from their sins." 22 So all this was done that it might be fulfilled which was spoken by the Lord through the prophet, saying: 23 "Behold, the virgin shall be with child, and bear a Son, and they shall call His name Immanuel," which is translated, "God with us." 24 Then Joseph, being aroused from sleep, did as the angel of the Lord commanded him and took to him his wife, 25 and did not know her till she had brought forth her firstborn Son. And he called His name JESUS.
2) THE STAR OF BETHLEHEM
Was the star that appeared around the time of Jesus' birth a proven astrological event?
To know the answer, watch this fascinating video.
Bethlehem Star Scientifically Confirms Biblical Events
3) Christmas Spirit Blessing by Dr. Susan Austin