Sabbath Inspiration: Waiting on God – A baptism of love
You are created to enjoy God!
""And it shall be, in that day," Says the LORD, "That you will call Me 'My Husband,' And no longer call Me 'My Master,'" (Hosea 2:16)
What is God's heart toward you?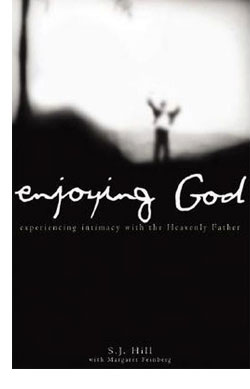 This morning I experienced an explosion of God's love and want to share part of my experience with you.
Yesterday morning, I stumbled across and began re-reading a book I forgot I had called "Enjoying God: Experiencing Intimacy With the Heavenly Father" by S. J. Hill. That is so good.
Yesterday evening, my wife and I went to a restaurant for dinner with a neighbor and unexpectedly had our first deep spiritual conversation with her.
After going to bed early last night, I woke up very early this morning (2:30 am), knowing I was to go to my sacred place for my sacred time to commune with God.
This time I was led to read the chapter titled "Divine Romance" in the "Enjoying God" book. Another WOW experience. In that chapter, Hill writes:
The divine romance is woven like a thread through the Scriptures. The wedding theme, whether it's between God and Israel or Jesus and the Church, echoes throughout the Bible.
For example, in Isaiah 54:5, the Bridegroom God says to Israel His wife, "For your Maker is your husband – the Lord Almighty is his name – the Holy One of Israel is your Redeemer; he is called the God of all the earth."
Again, in Hosea 2:16, God says to Israel, "'In that day," declares the Lord, 'You will call me "my husband"; you will no longer call me "my master." In verses 19-20, He goes on to say, "I will betroth you to me forever; I will betroth you in righteousness and justice, in love and compassion. I will betroth you in faithfulness, and you will acknowledge the Lord."
After my sacred time, I went to my desk in my home office and was inspired to quickly check my emails. An email from Dr. Susan Austin titled "Waiting on God" grabbed my attention. In her email, Susan wrote: "Joseph, have you seen this? It's Chad Kritzer on Waiting on God." I immediately clicked on the link and watched Chad share his testimony. While listening to Chad, I knew I was to share his experience with you.
I first met Chad in May 2017 at the The Dream Gathering hosted by the Cornerstone Inn in Nashville, Indiana. The Dream Gathering was the first of my three favorite experiences for the year. The second was The Awakening Your Spirit Dream Cruise led by Dr. Susan Austin. And the third was Revolution 2017 hosted by Jon and Jolene Hamill at the Museum of the Bible during Hanukkah.
Watch this video NOW to hear Chad's testimony of "Waiting on God", which he describes as a baptism of love. In his testimony, Chad shares his heavenly encounter hearing "God is really proud of you!!!" and having people applaude him and his wife Lauri Enjoy.
Notes regarding Chad's Waiting on God video testimony

Chad Kritzer has been participating in a virtual small group led by Dr. Susan Austin. She was the one who encouraged Chad to share this testimony.
Pastor Aaron and Missy "happened" to come to visit the Cornerstone Inn on Lauri Kritzer's birthday.
The Waiting on God gathering was like the Dream Gathering multiplied by 10
I realized I did not have any friends for many years in my life
The Holy Spirit was allowed to do what He wanted to do. The only planned meeting was the first day.
I had been an observer for the first day. But on the second day, the pastor introduced Lauri and me to the group He said "God is really proud of you!!!" Then he asked the congregation to stand up and show us God's love. It was as if all of Heaven opened up to honor us.
The love was so intense – so profound.
We were set free of a lot of things that day and one of those was legalism.
The experience was literally a baptism of love.
At the conclusion of the Waiting on God gathering, Lauri and I were given the beautiful painting created during the gathering.
We were so hungry for this kind of fellowship.
We are now endeavoring to do this in our home.
It's the first time in my life I have longed for this kind of fellowship
It was a turning point in my life.
Now, I am so free, I just want to love everybody.
There is a difference between teaching and demonstration (of love) = experience
These people genuinely want to love you.
There were restorative acts between the younger generation and older generation
My religous doctrines are done.
Nothing is more important than learning to recognize the voice of your heavenly Father – nothing!!!
In John 10:27, Jesus says, "My sheep hear My voice, and I know them, and they follow Me." Until you learn to recognize His voice, you can't follow the Great Shepherd moment-by-moment and will get lost.
The great adventure with the King of kings takes place as we surrender our will to His and follow Him.
Communion with God is a divine romance, a passionate dialogue, a two-way conversation marked by intense listening, love, and compassion. It's the utmost for His Highest.
Know that the Lamb sitting on the throne is passionately pursuing you. Come to Him!!!
Blessings to wait on God and experience his baptism of love!
Joseph
P.S. Thank you to the many people who commented this past week at the bottom of my blog post titled "A shift – The 2015 Christmas card from my son".
P.P.S. I encourage you to share your thoughts in the Comment box below.
Joseph Peck, M.D.
The Time Doctor and The Connector
Empowering Dreams
Author, I Was Busy Now I'm Not
More blessings
1) Christmas Spirit Blessing by Dr. Susan Austin
This short video blessing by Dr. Susan Austin is a great way to finish one year and start a new one.

By the way, Dr. Susan's new "Courage to Be Real" blog just opened to the public. I recommend subscribing to Susan's free weekly videos by following these simple steps:
Go to www.couragetobereal.com
In the top menu, click on "Susan's Blog", then "Free Videos Sign-up"
Then enter your name and email

2) I AM: 365 Names of God by John Paul Jackson
Simply hearing this inundating experience in worship evokes acute spiritual and emotional responses that release new levels of power and light.
3) WAY MAKER by Sinach
Of all the videos I watched in 2017, this video ministered the most to me. In-joy!
4) SINACH – I KNOW WHO I AM (official video)
5) Sinach- Great Are You Lord Lyrics